WINTER TRIPS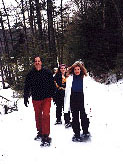 Snowshoe Tour
If skiing is not for you, try snowshoeing, one of the oldest inventions of man. Join us for a hike into snow covered meadows surrounded by scenic mountains in the wilderness. Discover fresh tracks of wild life native to the mountains. Minimum age: 10
3 hour trip includes guide, snowshoes, transportation and hot drinks
Ice Fishing
A truly a unique experience that you won't forget. Jigging your line through a hole in the ice on a remote pond. Catching trout, perch and pike.
1/2 day trip includes guide, ice fishing gear, transportation and hot drinks. NYS State License required for Age 16 and over.
Winter Mountaineering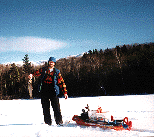 Challenge yourself to a true alpine adventure. The Adirondack Mountains are some of the most scenic and rugged mountains in the country. Our guided trips will teach you necessary skills to lead you on a safe, rewarding, and memorable experience. Learn about trip planning, and outfitting. Field instruction will include map & compass navigation, winter camping skills, crampon and ice axe techniques, mountain environment, rescue and survival skills. Multi-day trips offered.
---
Call (518) 523-4339 for trip dates, availability and cost. A two-person minimum is required on all tours.